You can't make something yellow without causing a stir. Arguably the most intense color on the spectrum, almost any expanse of it commands attention and draws the eye. So what does it mean when this color is employed in architecture? Psychologically, yellow is often characterized as making people happy or invigorated and — whether the designer intended it to or not — it can underscore such notions for inhabitants when used in a building.
The projects below all feature noteworthy applications of yellow in their articulation. Typologies vary widely, but the effect this color choice has on a wide range of occupants illustrates striking similarities and contrasts. In all, these examples reinforce the notion that yellow exerts a powerful presence wherever its used, and its implications should be considered carefully.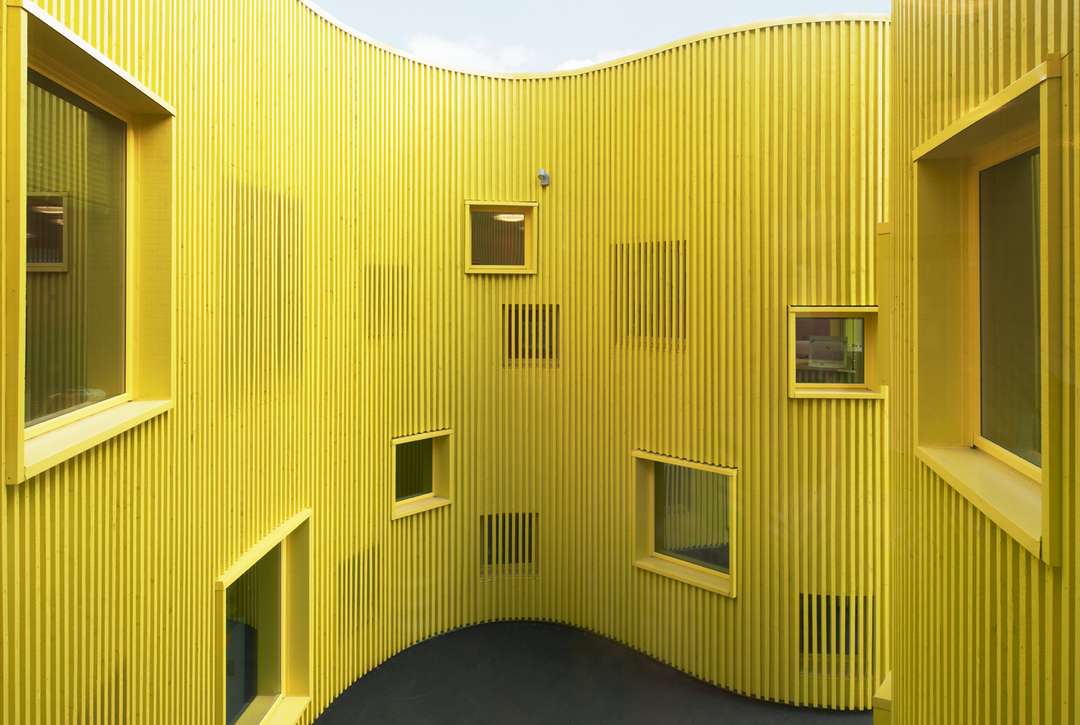 Tellus Nursery School by Tham & Videgård Arkitekter, Stockholm, Sweden
Individual strips of sawn wood, painted yellow, form a screen façade that extends over, or is interrupted around, certain openings. The space it defines — an interior courtyard where children from different grade levels are expected to play nicely together — benefits from the psychological effects of this color choice.
Apprentice Formation Center by AIR architectures, Saint-Maur, France
As a training center for apprentices in various crafts, this project carries the yellow theme across two buildings and the ground between them. This dramatic use of color acts as both an identifier and a mood-setting element for vocational training.
Sunray Woodcraft Construction Headquarters by DP Architects, Singapore
A yellow-clad exterior serves here to both reference a company's name and produce a high level of daylight reflectance into interior spaces. Used primarily as shading devices, yellow wooden bands protect interior spaces from harsh direct sunlight while ensuring maximum possible daylight is allowed inside. In addition, this color choice ensures the building will stand out without completely dominating its surroundings, allowing it to become a landmark for passersby.
Inter-Generation Centre by Dominique Coulon & Associés, Venarey-les-Laumes, France
An interior courtyard for a nursery is bathed in yellow as part of this community center. Besides the obvious benefits of using yellow for a children's play space, it also serves to delineate a break in program between the nursery and other areas of this multi-use community center. Furthermore, this courtyard also acts to buffer the interior of the nursery from the noise of trains passing nearby.
Housing for the Fishermen of Tyre by Hashim Sarkis Studios, Abbasiyeh, Lebanon
The interior courtyards of this housing complex have been brightly colored, a direct contrast to their dark exterior. This inward focus emphasizes levity amongst the residents and their interactions with each other, a mandate that was stressed in the complex's design, as all residents are members of a co-op and insisted on a design that treats each member as an equal.
Morangis Retirement Home by Vous Êtes Ici, Morangis, France
The creation of a welcoming effect, coupled with enhancing the reflection of daylight, was achieved here in the form of a yellow hue repeated across window and door openings, as well as some wall surfaces. This method is further employed for sculptural "dents" in the exterior wall to raise the profile of the color's presence. This works to lighten the mood of residents (many of them long-term care patients) and give a positive association to the building for anyone approaching from the outside.
Centre Clignancourt by GPAA Gaëlle Péneau Architecte & Associés, Paris, France
Color choice was a major component for the exterior of this university building, which alternates between yellow, blue and gray depending on program. Yellow's association with the arts underlies its psychological aspects, for which it can be seen to engender positivity among occupants. Whether in the practice of sport or the production of creative works, this strong application of color serves to energize and inspire.
Source: Architizer